THE EDITOR'S DIARIES - MONDAY 7 AUGUST 2000
Life's Been Strange Since 40
[but I still like eating]

The last time I wrote was my 40th birthday - I've been doing a lot of thinking since then.

I didn't intend in any way to see the passing of my first four decades as any special landmark in my life. But somehow it has.

Maybe it's been the coincidence with the fifth anniversary of CWN, or Ellie's first birthday, or the comings and goings of staff or just the ozone rising relentlessly that's made me pause to ponder.

Five years with CWN has certainly been a big deal for me. It's the longest I've ever had a job - and it's one I invented!

I never really meant for CWN to become what is has. It just evolved.

It's been like building the Tower of London out of matchsticks. When I started it was just a hobby to build a small-scale model. But it's just grown and grown and now it seems we're trying to build the real thing.

It's been an impossible task - everyone's told me that. But gradually matchstick by matchstick, html by html file it's got bigger and bolder.

But has it got closer to the truth.

Me don't know. All I know is that it can never be finished - we'll never place the final matchstick. Because the towers are getting taller and the crown jewels keep getting more valuable.

The stakes are growing. The beefeaters are getting hungrier.
And talking of food WHY is it so difficult to find a decent place to take a business client to lunch in Coventry city centre.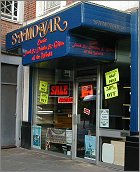 I've scoured practically every eating-place within the ring road searching for a peaceful, pleasant and palatable midday feeding place.
And it has continued to be a fruitless quest.
Another of the small band of tasteful places fell by the wayside a few weeks ago. Samovar, one of the city centre's hidden gems, closed its doors after a few brief years offering a lunchtime haven for the more discerning client.
So today by chance I returned to the scene of my 40th birthday party - Tabasco's tapas bar at the Canal Basin.
Last time I went was in the evening when their full mouth-watering tapas menu was available for consumption.
They alas see lunchtime diners as second-class citizens and offer a diminutive selection of just three hot and three cold tapas.
Considering two of them were heavily garlic based - which I don't like and aren't really ideal if you're meeting clients in the afternoon - and the calamari wasn't available we were barely faced with a choice at all.
Luckily after some persuasion they offered a tapas dish from the evening menu of chicken deep fried with a honey and mustard glaze which proved to be a good choice.
I accompanied that with a sort of toasted sandwich of cheese and asparagus I believe which didn't quite live up to expectations being rather dry and unimaginative.
My eating companion also took a toastie and accompanied that with a meatball tapas.
He made no comment about the food. I'm not sure whether this was a sign of satisfaction, indifference or just the fact that our topic of business conversation was more interesting.
And alas the service again didn't quite make the mark. I had to go and find a waitress to take our order and then when we'd finished our meal no one came to offer us coffee - a sure way to diminish your profits.
Therefore for its lunchtime performace, on marks out of ten, I'd give Tabasco's:
FOOD
6
SERVICE
4
AMBIENCE
7
VALUE FOR MONEY
7
OVERALL
6
AVERAGE PRICE PER PERSON
[excluding drinks]
£8
So Tabasco's is an evening hit, but a lunchtime miss.
Let me know where you'd recommend for a city centre lunchtime meal and I'll check it out.
IF YOU WOULD LIKE TO MAKE COMMENT OR RAISE A QUESTION EMAIL ME AT chris@cwn.org.uk