[22 JUN 99] UNIVERSITY OF WARWICK NEWS
Medical School For Warwick University

Healthcare in Coventry and Warwickshire has been given a massive boost today after the announcement that Warwick University will be the site for a major new medical school.

The Government today gave the go-ahead for a joint venture between Leicester and Warwick, which will provide 1,300 places for medical students each year.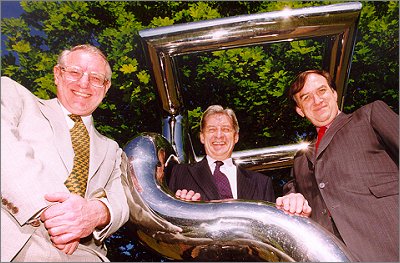 (FROM LEFT) PROFESSOR SIR BRIAN FOLLETT, VICE CHANCELLOR OF THE UNIVERSITY OF WARWICK; DR KEN EDWARDS, VICE CHANCELLOR OF THE UNIVERSITY OF LEICESTER; PROFESSOR BOB BURGESS

Leicester University currently caters for around 850 but it will be the first time that Warwick has actually run a medical degree.

A university spokesman said:
"We have always done a lot of medical research at Warwick but we have never run an undergraduates' course before so this announcement is great news.

"We will be constructing several million pounds worth of new buildings on our Gibbet Hill Road site which will be funded by the government as part of the scheme.

"It will be open for the in October 2000, we have wanted this for 25 years so we are certainly not going to hang around now."
The news comes as a big boost to the area's healthcare with the Coventry hospital debate rumbling on, as many newly qualified doctors take up posts close to where they are educated.
The announcement is part of a programme that saw the allocation of 684 new medical places across the country, of which Warwick and Leicester received more than any other bid.
The NHS has been quick to give it's backing to the scheme which should give a great boost to Warwick University as a whole.
A spokesman said:
"The portfolio of Warwick will be hugely boosted by the news.

"Believe it or not we have already had hundreds of people calling up wanting to know about securing places on the course, so it has given us a great boost."
Professor Brian Follett, Vice Chancellor of the University of Warwick echoed this delight at the announcement.
He said:
"This is terrific news creating, almost overnight, an internationally sized and ranked medical school which will directly benefit the people of Coventry, Warwickshire and Leicestershire.

"It has been our aim for 25 years to bring a medical school to Warwick."
READ THE COVENTRY CITY COUNCIL PRESS RELEASE
For further details contact:
Peter Dunn Press Officer 01203 523708