[13 NOV 00] GROUNDWORK COVENTRY NEWS
Young Artists Bring Fence To Life

Young artists in Coventry have teamed up to add a splash of colour to Coventry canal by painting a mural on a dilapidated fence.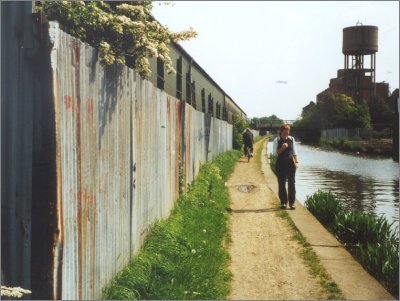 THE FENCE BEFORE (ABOVE) AND AFTER THE WORK (BELOW)
Nine painters, helped by community artists, have brighten up the stretch forming the boundary between the Courtaulds (now called Acordis) and the canal.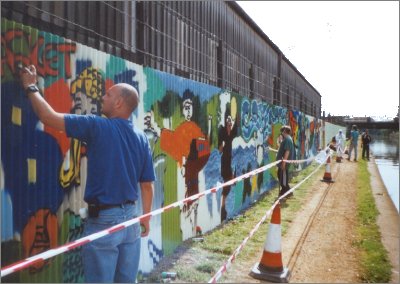 Comics, wildlife, graffiti-style art, the canal site and their own interests as were all used as inspiration for the designs developed in workshops with Ivor Arbuckle, of Walsall-based Splinter Community Arts, and freelance artist Pete Smith.
Each of the young artists worked up a number of ideas which were then assembled into a rough layout. Ivor then worked the designs into a coherent mural design.
The mural "canvas", a corrugated metal fence presented a difficult challenge as a surface on which to paint.

A CLOSE-UP OF ONE OF THE DESIGNS
Ivor said:
"Normally it takes a while to master the techniques of spray can painting because of the protective masks and clothing we have to wear.

"We thought the corrugated metal would add to the difficulties but we were really surprised at how quickly the young people took to it and how well they managed to get the paint on with colour variations and mixes.

"It took just two days to transfer their designs into a 100 ft long mural on the fence."
Peter Shone, Acordis site manager, was so impressed with the work the youngsters produced that he presented them with Certificates of Achievement.
The mural was part of a wider programme of canal boundary improvements funded by Government and European Regional Development funds, which are being undertaken by Groundwork Coventry in partnership with Coventry City Council.
The mural is not a formal part of the public art trail, which runs along the five and a half miles between Hawkesbury Junction, Longford and Coventry Canal Basin.
But it was recognised that the public would see it as part of the decorations, and the quality of the artwork had to stand up against other works along the route.