[02 MAR 99] RSPB PRESS RELEASE
Nest Raiders Hit Rare Birds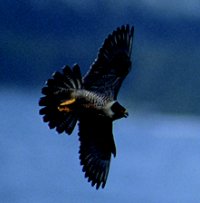 The nests of more than 60 rare breeding birds were plundered last year, according to new RSPB figures. Nest robberies, by egg thieves and bird of prey collectors, target some of the UK's rarest breeding birds and in 1998 such robberies included the nests of 25 peregrines, seven goshawks, six merlins, six choughs, four ospreys, two whitetailed eagles and one golden oriole.

In 1997, two Coventry men were caught near a golden eagle nest site on Mull and fined £1000 each for possessing egg collecting equipment, and another two men were found guilty at Rugby Magistrates Court of offences relating to the taking and possession of wild birds eggs. In February this year an egg collector in Coventry was fined over £2000 after a court heard that he had more than 300 wild birds' eggs, nearly a quarter of which were from rare or endangered species.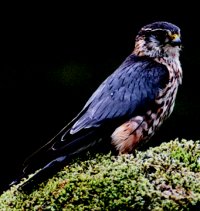 The Society is calling on its million strong membership to join the battle against wildlife crime. A letter, sent to its membership today, asks them to keep an 'eagle eye' open for bird crime and tells them what to watch for.
Richard Porter, RSPB head of species protection, said:
"Every year hundreds of wild birds are illegally poisoned, trapped, shot or have their nests robbed. These are just the tip of the iceberg as most of the victims will never be discovered. We want to stop these crooks and scoundrels who threaten our wildlife. Their motives are greed, ignorance and sheer bloody-mindedness and the end result is the destruction of treasured birds.

"Hundreds of egg collectors are prepared to break the law each year by stealing and killing what are, in effect, future generations of birds. Only a handful are caught annually and the fines which such crimes attract are clearly a poor deterrent. The RSPB is calling on Government to amend wildlife laws to allow stronger penalties to be imposed."
In the last three years, indiscriminate and illegal poisoning has led to the deaths of 68 buzzards, 20 red kites, 13 peregrine falcons, four golden eagles, two marsh harriers, one hen harrier and one white-tailed eagle.

There is also a flourishing illegal trade in wild birds which involves some of the world's most endangered species and in the last two years the RSPB learned of 38 separate cases of illegal bird trafficking. As well as rare parrots, macaws and cockatoos, birds of prey also feature and peregrine falcons from the UK are sometimes smuggled Out of the country to continental Europe.

As well as helping to fund its vital species protection work, the RSPB hopes its members can look out for signs of wildlife crime such as poisoning, trapping or nest robbery. Any suspicious incident should be reported to a local Police Wildlife Liaison Officer, to the RSPB or, in the case of poisoning, to the Government Agriculture Department on a special hotline number - 0800 321600.

NOTES

1. Nest robberies in 1998 (provisional figures)
Species
Theft (No)
County
Peregrine
Egg (19)
Cumbria (7); Lancs (2); W Yorks (2); Devon (1); Glamorgan (2); Powys (1); Gwynedd (1); Dumfries & Galloway (1); Strathclyde (1); Tayside (1).
Chick (6)
Cumbria (1); Northumberland (1); Glamorgan (3); Powys (1).
Goshawk
Egg (5)
S Yorks.
Chick (2)
S Yorks (1); Gwent (1).
Merlin
Egg (3)
Glamorgan (1); W Yorks (2).
Chick (3)
Glamorgan (1); Powys (1); Derbys (1).
Chough
Egg (6)
Gwynedd.
White-tailed Eagle
Egg (2)
Strathclyde
Black-tailed Godwit
Egg (1)
Lancashire
Osprey
Egg (4)
Highland
Golden oriole
Egg (1)
Suffolk
Cirl bunting
Egg (2)
Dorset
Red-necked Phalarope
Egg (2)
Western Isles
Dotterel
Egg (1)
Highland
Barn Owl
Egg (1)
Lincs.
Stone-curlew
Egg (1)
Suffolk
Slavonian
Egg (1)
Highland
Linnet
Egg (1)
Dorset
House martin
Egg (1)
Highland
Meadow Pipit
Egg (1)
Highland
Shelduck
Egg (1)
Norfolk
Tree sparrow
Egg (2)
Leics.
Raven
Egg (3)
Cumbria (1); Gwynedd (1); Derbys (1).
Sandwich Tern
Egg (1)
Cumbria
Common Sandpiper
Egg (1)
Highland
Golden Plover
Egg (1)
Highland
Sparrowhawk
Chick (1)
Lincs.
2. Bird of prey poisoning incidents 1996 - 1998 (number of birds given where this exceeds number of incidents)
| | | | | |
| --- | --- | --- | --- | --- |
| Species | 1996 | 1997 | 1998 | TOTAL |
| Buzzard | 24 (32 birds) | 9 (11 birds) | 17 (25 birds) | 68 |
| Red kite | 5 | 7 | 8 | 20 |
| Peregrine | 4 (5 birds) | 3 (5 birds) | 3 | 13 |
| Golden eagle | 1 | 1 | 2 | 4 |
| Marsh Harrier | 1 (2 birds) | | | 2 |
| Hen harrier | | | 1 | 1 |
| White-tailed eagle | 1 | | | 1 |
3. Under the Wildlife and Countryside Act 1981 all wild birds, their eggs and nests are protected by law. Maximum fines of £1,000 per egg, bird or nest apply to most species but rarer breeding birds like osprey, red kite, golden eagle, goshawk, hen harrier, merlin, peregrine and golden oriole have a £5,000 maximum fine per egg, bird or nest.
4. The Government and police have established the Partnership for Action against Wildlife Crime which brings together all those involved in fighting wildlife crime. The Police Wildlife Liaison Officers network covers the UK and there are officers responsible for tackling wildlife crime in every police force.
5. Crimes against wild birds in 1997 included: 143 reports of shooting and destruction of birds of prey; 92 poisoning incidents; 94 nest robberies (75 relating to birds of prey); 67 reports of illegal trapping, possession or sale of birds of prey; 59 reports of illegal trapping, possession or sale of wild birds other than birds of prey; 24 reports concerning the illegal import and export of birds.
More Informationt:
Rachel Sharp, Regional RSPB Youth and Education Officer (01295) 253330
Alasdair Bright, RSPB Press Officer (01767) 681577 / 680551
Helen Tate, Regional RSPB Public Affairs Officer (01295) 253330