[10 NOV 01] SPON END BUILDING PRESERVATION TRUST NEWS
Black Swan Project Going Well

Workmen restoring a 15th century building in Spon End have uncovered an almost complete medieval well.

The sandstone well was uncovered by workmen replacing a floor in the rear room of 123A Upper Spon Street - Black Swan Terrace. This includes a sandstone water gulley and a later Victorian water gulley. These were used to top up the well.

Also found in an area in the centre of the room, about 12 inches below floor level, were soot, blackened stones and various bones including sheep and cow bones. Paul Thompson, archeologist, has removed various artefacts including a well-encrusted coin and a piece of 15th century pottery.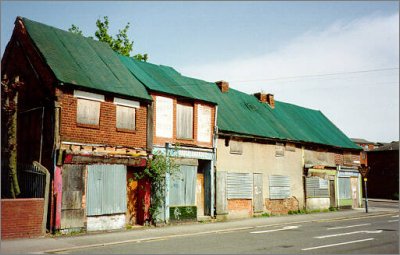 BLACK SWAN TERRACE
Trustees of the Spon End Building Preservation Trust, who are undertaking the restoration of the buildings, have agreed to cap the well with a glass floor so that it can be seen once the floor is replaced.
Trustee Kevin Noble said:
"This is just one of many exciting finds and we have only really investigated 10% of the site so far."
Work on Black Swan Terrace is on schedule with the first parts of the building due to be open for business in the new year. Over the next couple of weeks the public will witness the removal of some of the scaffolding and hoardings to reveal a first glimpse of the restored building.
Through the efforts of the Trust the building is well on the way to removal from the English Heritage 'At Risk Register'.
This phase has restored 'Moira's Wet Fish Shop' back to its pre-war appearance, retaining it's green glazed brick, although beneath the brick facade are the medieval timbers. The first full medieval restoration will be part of the next phase which will begin later next year. At least one of the units will have it's original medieval frontage restored.
More information about the project is available from the Spon End Building Preservation Trust website at www.sponend.org.uk/sebpt.
SEE ALSO : [05 MAR 01] ENGLISH HERITAGE BACKS BLACK SWAN WORK
SEE ALSO : [25 JAN 01] EMERGENCY REPAIRS START AT MEDIEVAL BUILDING