[11 SEP 00] HERITAGE OPEN DAYS NEWS
Visit The Seat Of City Power

It will be a rare weekend opening for one of Coventry's oldest and most hidden buildings this Saturday.

St Mary's Guildhall is well-known for the events, meetings and weddings that take place there all the year round.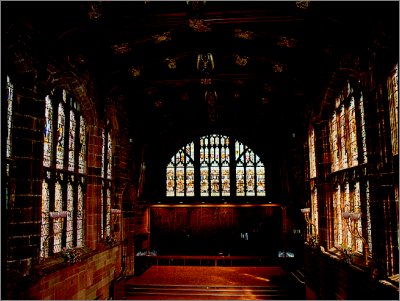 THE MAIN HALL
But to a tourist or a passer-by it can be a totally different proposition. Tucked away down a narrow street alongside the old cathedral it is easily missed.
However, going into the 14th century building opens up a different world, and the scene of many major moments in the city's history.
The Black Prince, Lord of the Manor of Cheylesmore most probably visited the building during its medieval pomp.
Tapestries recalling Henry VII and his Queen Elizabeth's visit still hang, and many monarchs are also celebrated.
Visiting the hall was not a moment of celebration for Mary, Queen of Scots as she was imprisoned in the fortified Caesar's Tower for two months from November 1569.
St Mary's, which has grown in size and been altered several times since it was first built, reflected the power and wealth of the guilds in Coventry when the city was one of the most important towns in the country.
It was used as the council chamber from at least 1441 until 1865, and the formal mayor-making ceremonies are still held there.
The main hall was recently used to usher in a new dawn in Coventry's political history, when the city's first cabinet met there to encourage members of the public to come along and witness democracy in action – more than 100 people turned up.
Having survived bombs falling nearby, and political riots in the 18th century, the building is now part tourist-attraction, part events hall.
Visitors cannot usually see the hall at the weekend as it is use. But this Saturday the doors will be thrown open.
The Black Prince will be on hand to tell people about his time in the city, and medieval musician Richard York will be playing in the courtyard.