[09 JUN 99] POLITICS NEWS
Low Interest In Euro Elections

Coventry and Warwickshire goes back to the ballot boxes on Thursday to decide who will represent the region in Europe – but some voters don't even know it is taking place.

With the new proportional representation voting system every vote is now crucial, but it seems local people's interest has not been grabbed by the election.

Ashley Davies, 27, from Willenhall, freely admits that he did not even know when the voting was taking place.

He said:
"I have had a card through the door but I didn't really look at it, I thought it was another of those local elections.

"I have not received any flyers or anything this time, so I don't really know what the main issues are or which party is closest to my views.

"I think people are getting sick of meaningless elections and to be honest politics is getting so dull that I no longer take any interest, I don't think I would bother to vote even if it was a general election."
Disinterest was an emotion echoed by Paul Adams from Holbrooks.
"I don't really care who wins, I don't think it makes any difference to us whether we are represented in Europe by Labour or by the Teletubbies the decisions are made in Brussels," he said.

"I certainly am not going to bother to vote, and I don't think many people will be interested because you can tell by the lack of media interest in the election that it is not something that anyone is worried about."
One person who will be voting on Thursday is Kenilworth resident Glyn Lawton, who believes that people do not realise the importance of the event.
He said:
"The Conservatives have the message 'In Europe not run by Europe' and that is vital if we are to stay as we are now.

"There are certain policies being banded around in Europe which would cause a lot of people in this country problems, like the 48 hour working week, and voters need to realise that most of the parties are going to surrender power.

"It is ridiculous that decisions can be made which will affect this country by people who have probably never been here in their lives."
However, it seems that if the parties have been trying to communicate the key issues of the election they have failed spectacularly.
Joyce Weaver from Coundon says she will not vote because of lack of knowledge of important matters in Europe.
"No-one takes any time to properly explain what is going on or what it actually means to the people.

"All Labour want to do is point score off the Conservatives, and vice-versa so you end up knowing nothing about what is actually going on."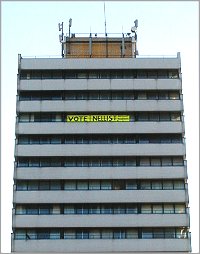 One candidate whose name will certainly be known to Coventry voters on Friday will be Socialist Alliance's Dave Nellist.
A huge poster in the windows of Mercia House tower block in the Lower Precinct proclaims 'Vote Nellist' and the City Councillor and former MP said:
"Somebody has had a great idea. It was mentioned to me that there was a banner but I had not seen it.

"It is massive, it is on the 12th or 13th floor and you can see it from a very long way off. I must find out who did it and congratulate them."