[21 FEB 01] COVENTRY CITY NEWS
Local Roads Get Ready For Absent Stadium

Major road works are being carried out to prepare for Coventry City's new stadium –despite fears that the scheme might not go ahead.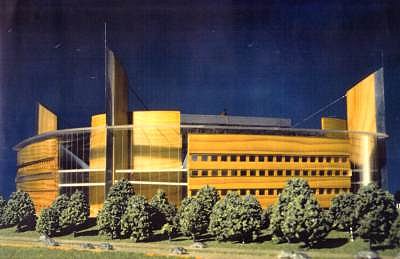 HOW THE ARENA WILL LOOK ONCE IT IS BUILT
Some people connected with the £172m super-stadium scheme are worried that the plug will pulled if the Sky Blues are relegated to Division One at the end of the season.
But improvements to Junction 3 of the M6 are going ahead regardless. The changes are being paid for by the developers of the stadium, and also those transforming the former Keresley Colliery Site.
With thousands of visitors expected to travel to the sites in search of work and entertainment, the motorway's links with the A444 are being upgraded to cope with the expected traffic flow.
Extra lanes and new traffic signals are being added to the roundabout to reduce delays for existing traffic.
The new traffic signals will be brought into use next week and the work is expected to be finished by mid-March.
One of the main changes motorists will see at the junction is the removal of the slip roads from the A444 onto the motorway.
This will increase the number of lanes available for the A444 traffic going between Coventry and Nuneaton, which is the largest traffic flow at the roundabout.
A number of other features will allow traffic engineers at Warwickshire County Council to monitor the junction and use traffic management measures to reduce the effect of incidents such as accidents or congestion.
These include CCTV cameras, monitoring of faults in the traffic signals by computer, detection of long queues by loops in the road and computer co-ordination of the traffic signals.
Warwickshire County Council's Highways Engineer Chris Horn said:
"This major scheme will not only reduce the amount of congestion by increasing the capacity of the junction, but it will also make the junction safer.

"Regular users of this junction should see a noticeable reduction in the number and length of delays that they experience at the roundabout, making the temporary inconvenience caused by the road works worthwhile."
The new junction layout has been approved by Warwickshire County Council, the Highways Agency, and Warwickshire Constabulary.
SEE [01 FEB 01] TELL US THE TRUTH OVER STADIUM DELAYS, SAYS MP