[13 DEC 00] COVENTRY AND WARWICKSHIRE PROMOTIONS NEWS
Youngsters Prepare Their Lights And Lanterns

Coventry schoolchildren will be displaying self-made artwork and costumes in a special lights and lanterns procession at the end of the month.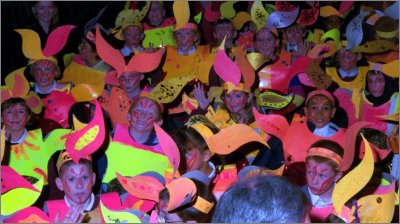 TWO SHOTS FROM THE 1997 PROCESSION
250 children from seven city schools are learning how to make music, costumes and lanterns during workshop sessions with local artists in preparation for the city centre lantern procession on 31 December.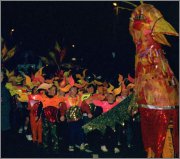 The six primary schools involved are being taught costume and lantern-making techniques. The children are being encouraged to produce original work for display in the procession.
The only secondary school involved will be taught African drumming techniques to provide a musical element.
Starting at The Herbert Art Gallery and Museum at 5pm on New Year's Eve, the procession will wend its way through High Street, Broadgate, The Precinct, Market Way, Shelton Square, Hertford Street, Broadgate, Trinity Lane, Cuckoo Lane, Bayley Lane and Priory Street.
It will visit four city centre performance spaces before ending up on the main stage in Priory Street.
Each of the schools has received support from local companies and organisations to help pay for the artists to work with the children. They are:
Eburne Primary with artist Lorella Medici, supported by HSBC.

Hawkesbury Fields School with Peter Chaplin, supported by Herbert Art Gallery & Museum.

Joseph Cash Primary with Tanya Collins, supported by Jaguar.

Sir Henry Parkes Primary with Anna Norris, supported by National Grid.

Southfields Primary with Kirsten Kennedy, supported by Focus Housing Group.

Stoke Primary with Trudy Ress-Marklew, supported by Elliots Car Accessories.

Stoke Park School and Community Technical College with Saskia Watkin, supported by Coventry Chamber of Commerce, Training & Enterprise.
Joe Hermitage, Procession Co-ordinator for event producers Coventry and Warwickshire Promotions said:
"The procession is a great way to get the community involved in the event, it provides an opportunity for local artists to pass on their skills to local children.

"It would be great if the city could reward their hard work with a big audience."
SEE: [12 DEC 00] CLOWNS COME OUT TO AMUSE IN COVENTRY