[18 DEC 00] COVENTRY AND WARWICKSHIRE PROMOTIONS NEWS
Rangoli All The Rage For City Centre Celebrations

A Coventry Caribbean community group is to learn a craft from south Asia so that they can create a unique piece of artwork for New Year's Eve.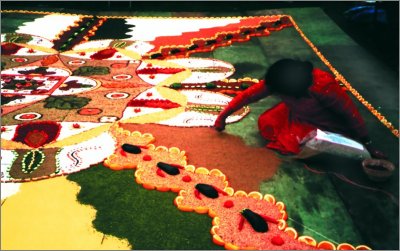 A RANGOLI BEING MADE
Hillfields-based community group Jamba, which is made up from residents of Jamaican and Barbadian descent, will be taught the traditional south Asian art of rangoli by Indian artist Ranbir Kaur in preparation for a city centre artwork piece to be constructed on New Year's Eve.
A rangoli is a mosaic-like design, often depicting flowers, animals or abstract patterns, made on the floor using natural materials such as rice powder, lentils, coloured sawdust, fresh flower petals and dry colour powder.
Children from Jamba will be taught the rangoli construction techniques in a workshop.
Ranbir will be teaching the children the history of the art, giving practical demonstrations and getting them to make their own rangoli design.
Having learnt these skills, the children will then help Ranbir construct a 3.5 by 5 metre rangoli in the centre of West Orchards Shopping Centre on New Year's Eve between 10.30am and 4.30pm.
The theme of the design will be the phoenix, a creature used on the city's coat of arms and often associated with the city.
The rangoli will be photographed continually during its construction before, as tradition dictates, it is swept away after completion.
Jane Wynn, Festival Manager for event producers Coventry and Warwickshire Promotions said:
'It's a great opportunity to teach the local community about different cultural arts and get them involved in creating a unique piece of art for a very special day.

"The rangoli will be a beautiful thing to see in progress and we hope many people will come along to see it".
SEE: [13 DEC 00] YOUNGSTERS PREPARE THEIR LIGHTS AND LANTERNS