[28 DEC 00] COVENTRY AND WARWICKSHIRE PROMOTIONS NEWS
Tightrope Walker Makes Surprise Return

The dazzling tightrope walker who capped Coventry's millennium celebrations is making a surprise return to perform in the city on New Year's Eve.

Thousands packed into the city centre last year to watch him walk between the spires of Holy Trinity Church and the old Cathedral

Now Ramon Kelvink will be coming back for another appearance in the city as part of the activities taking place this year.

He will perform his oscillating pole act, seen twice last year, during the two-hour Circus Phoenix show, which starts at 7pm on the Priory Stage, located between Coventry University and Coventry Cathedral.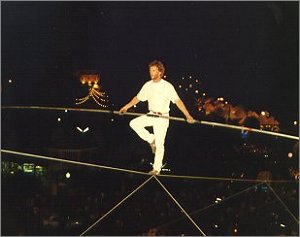 RAMON KELVINK WALKING THE WALK LAST NEW YEAR'S EVE
The fifth generation high-wire walker from near Bordeaux has also agreed to perform another act from his repertoire, a tightrope acrobatics show just before Coventry's own 2 Tone Collective take to the Priory Stage at 9pm.
Ramon said he will be delighted to be back in the city that allowed him to stage one of the great millennium spectacles in Britain, his 45-metre high skywalk.
He said:
"I want to say a big hello to the people of Coventry. I will always have wonderful memories of my walk between the spires.

"It was a big moment in my career and it's really nice to be able to come back and see everybody."

"I hope people in Coventry will want to see me again, doing a smaller show than last year. I have such good memories of the city. It will be great for me."
Rae Hoole, Head of Events for New Year's Eve producers Coventry and Warwickshire Promotions, said:
"Ramon gave us something really special last year. All those who did not manage to see him live or on TV then will get the opportunity to catch up with his act on December 31.

"It won't be on the same scale as last year but knowing Ramon it will be spectacular. We're delighted to have him back."
Controversy surrounded last year's show as the BBC failed to show it live despite spending thousands on setting up equipment to screen the walk.
A problem with the National Lottery machine caused a delay with the end-of-year draw, and Coventry missed its slot because producers did not cut to the city while the problem in London was solved.
Viewers were instead treated to Dale Winton panicking on screen.
SEE: PREVIOUS STORIES ON THIS NEW YEAR'S EVE CELEBRATIONS
SEE: [31 DEC 99] COVENTRY MISSES MILLENNIUM BBC SLOT