[14 MAR 01] COVENTRY AND WARWICKSHIRE PROMOTIONS NEWS
Life Of Crime Sends Judith To Coventry

Crime writer Judith Cutler, a former student of novelist David Lodge, will be joining him on the panel for the Writers at the Hall event in Coventry later this month.

The pair knew each other at Birmingham University, where David Lodge, then Professor of English, was Judith Cutler's tutor.

They will be joined at St Mary's Hall for the literary evening on Wednesday, 28 March by the novelist Jonathan Coe.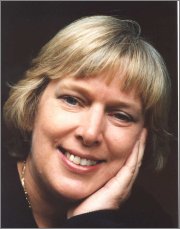 Birmingham-based Judith (right) is the author of two popular series of crime novels set in the West Midlands, featuring amateur crime sleuth Sophie Rivers and her professional equivalent, Detective Sergeant Kate Power.
The latest Power story, Power Game, is just out in paperback.
A prize-winning short story writer, Judith has recently ventured into romantic fiction and is also secretary of the Crime Writers' Association.
She said she is delighted to be joining the panel:
"Lodge and Coe are killingly funny: I go in for funny killings.

"Seriously, it will be a great honour for me to be at the same event as David Lodge, one of the greatest comic writers of the era, and Jonathan Coe, who is driving the comic novel in startling new directions."

The compere at the event, sponsored by Harry Shaw Business Computers, will be Annie Othen (right), the breakfast show presenter for BBC Coventry and Warwickshire.
The evening includes a three-course dinner and free wine reception, as well as a book-signing session.
Tickets are £20 a head and are available from Coventry's Tourist Information Centre in Bayley Lane on 024 7622 7264 or email tic@coventry.org