[12 MAR 01] SKYDOME COVENTRY NEWS
Swains To Support Smokie In City

Top Coventry band the Swains have been handed the chance to play to their biggest audience in the city.

The five-piece group have been signed up as support to 70s and 80s chart stars Smokie in the first of the Sound of Skydome concert series.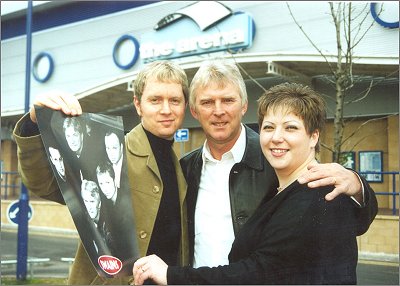 SIMON WAGSTAFF AND MARTIN SWAIN OF THE SWAINS AND SARAH COUSINS OF PLANET ICE
They will perform for around 45 minutes at the 4,000-seat arena on 31 March.
Swains drummer Simon Wagstaff said the gig was a step up for the band in Coventry.
"We have attracted a loyal following over the last six years in Coventry and have performed in front of 500 at various venues in the city but this will be something very different.

"Everyone watched the arena being built and to be one of the first bands asked to perform there is a real thrill.

"We have been lucky enough to play at the NEC, when we supported Aston Villa manager John Gregory, and also at Ronnie Scott's in Birmingham but this will be our biggest concert in the city.

"We will perform a set of wide ranging material, mostly covers from the 60s through to contemporary tracks. It should be a night to remember."
Rod Gunner, the Skydome Arena promoter, said the decision to hire The Swains had been taken after hearing such positive reports on the band.
"I actually saw them perform on Ian Wright's chat show when they backed John Gregory but at the time didn't realise they were from Coventry.

"We have had people at a couple of their recent gigs and they came back with very good reports and that persuaded us to approach them. We are always keen to support local talent and we know they will be very well received in their home city.

"They should be perfect support for Smokie who will be playing a host of classic cover tracks as well as their own material."
Tickets for the event are priced at £12.50 and are available from the Skydome Box Office on 024 7663 0693.
SEE [02 MAR 01] SEVENTIES STARS KICK OFF SKYDOME CONCERTS