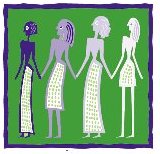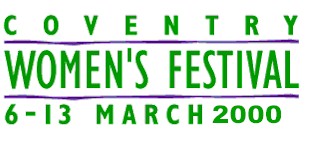 ---

As we enter the new Millennium, it is important that we continue to celebrate the achievements and lives of Coventry women.
I wish the Coventry Women's Festival every success in the year 2000. Lord Mayor, Joan Wright
---
Welcome to the programme of events for the Women's Festival 2000.
Why are we celebrating again this year?
We celebrate for many reasons. Women have historically had to fight for basic rights. Every year we celebrate those achievements and highlight how much more needs to be done. The programme this year is more focused. The achievements of local, national and international women are huge. Let's celebrate together.
WHAT IS INTERNATIONAL WOMEN'S DAY?
IN 1910
At a women's international conference in Copenhagen, Clara Zetkin of Socialist International called for 8 March to be marked as International Women's Day. The date was chosen because it commemorated the following historic events:
ON 8 MARCH 1857
New York women workers of the textile and clothing industry demonstrated in protest against their low wages and poor working conditions.
ON 8 MARCH 1907
Women in New York demonstrated on the anniversary to call for the vote for women and the end to child labour and sweatshops.
IN 1909
The day had been formally recognised as 'Women's Day' in the USA. Rallies and demonstrations were held the following year in Germany, Denmark, Switzerland, Austria and the United States. It is estimated that more than one million women went on the move demanding the right to vote and an end to sex discrimination.
IN 1913
Russian women first celebrated the day when it was declared a national holiday by the Russian Parliament.
UNTIL 1968
Relatively little was heard of the day until 1968 when women in Chicago revived the celebration of International Women's Day as part of the resurgence of feminism in the 1960s.
IN 1971
A demonstration of 5,000 women marched in London demanding childcare, equal opportunities and easier access to safe abortion.
IN 1975
The United Nations formally recognised 8 March as International Women's Day.
MORE INFORMATION: Sue Webb