THE EDITOR'S DIARY - SUNDAY 3 JUNE 2001
Now We Are Six

This past week was a busy one for me for anniversaries and birthdays.

Benita and I celebrated 14 years of marriage, I reached my 41st birthday and CWN became six years old.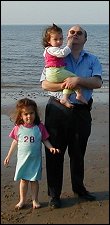 CWN is the 'eldest' of my three children. It is also the most demanding.
Myfi will be four in September and loves to be the centre of attention. Ellie is coming up to two in a few weeks and is beginning to learn to stake her claim.
Both of them can be difficult but they always give so much joy and happiness in return.
But CWN is different - it is like a baby that can never grow up. It always does, and always will, need constant care and attention.
And I'm not sure if many people who visit this site really know what it is.
I know from the hundreds of messages it generates every week that many visitors certainly think it is something that it isn't.
CWN is not:
part of Coventry City Council - it never has been and never will be

a large news organisation with dozens of editorial staff

part of a large multinational company with unlimited funds

part of BBC local radio (that was CWR!)
and we are not part of the Odeon cinema nor are we bat specialists (although more on that one in the next episode).
So if that's what it's not, what then is it? Who runs it, who funds it, who feeds it and nurtures it.
The simple answer is me - just me. All alone, by myself (with just a little technical help here and there).
And I do it all in my spare time - my daytime job is running Coventry Internet Developments Ltd (aka CWN Design / Ecosaurus). That's the commercial company that earns the money that allows me to keep CWN going.
That's why, regrettably, I cannot always put a new competition up immediately the previous one finishes. And why the cinemas aren't always updated first thing on Friday morning. And why schoolfriends entries don't always get posted first time.
You might well ask why I do it.
I've spent many thousands of pounds and even more thousands of hours keeping it going over the last six years.
A public service without a public purse.
It certainly doesn't earn its keep. We've experimented with advertising but with very limited success. And we've employed, at various times, advertising sales people, editorial assistants and even journalists.
The approximate costs for the last six years speak for themselves:
advertising revenue = £3,000
running costs (technical and editorial) = £150,000
So why, why, why?
I've enjoyed it. I've met numerous people from all walks of life and from many parts of the world. I've learnt more than most about how Coventry works.
And over 100,000 people visit the site every month, who for the most part seem to appreciate what the site provides.
But is that all - is that enough. Maybe there is something less measurable and less rational.
Ask any parent. No matter how difficult the child you still want to do the best you can for it. Dress it smartly, feed it well and teach it all the right things.
Even it means working all hours and neglecting the rest of the family.
So there it is. CWN lives and breathes, so I must care for it.
But I do hope one day it will grow up, fly the nest, stand on its own two feet and leave me in peace.
IF YOU WOULD LIKE TO MAKE COMMENT OR RAISE A QUESTION EMAIL ME AT chris@cwn.org.uk