COVENTRY INDICATORS - ENVIRONMENTAL

Household Waste Recycled




Recycling of waste should be carried out only after we have first attempted to cut down the amount of resources used and waste produced in the first place. Recycling can use less energy and cause less pollution in manufacturing as well as cutting down the demand for raw materials.
The total household waste recycled per person is used as an indicator because it can be related to the domestic waste collected indicator and is something over which we can all have some influence.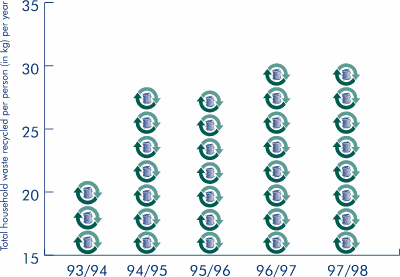 Coventry has been at the top of the Citizen Charter league table for Metropolitan Authorities for recycling for several years, with a current recycling rate of 9.1%. However, it still falls short of the government's target of 25% and a long way short of the 50% of household waste which it is estimated can be recycled.