COVENTRY INDICATORS - SOCIAL & ECONOMIC

Homelessness




Having a home is a basic human need. The number of homeless people reflects the level of extreme poverty in our society, and is an indicator or sustainability.
Until 1996 there was a general upward trend in the number of people officially classed as homeless. Unfortunately there are no figures for 1996/7, but in the year 1997/98 there were over 200 less people who were officially homeless in Coventry than 2 years earlier.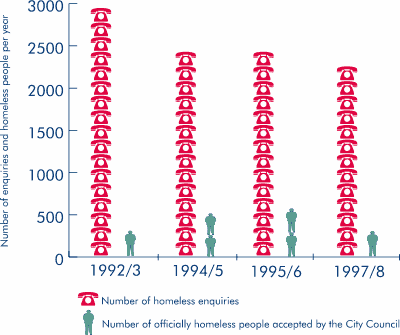 The number of homeless enquiries has also declined. These figures have been included because they demonstrate the number of people who have found themselves without a home, although they have somewhere to stay temporarily. This means they are not classed as officially homeless.