COVENTRY INDICATORS - SOCIAL & ECONOMIC
People Voting In Local Elections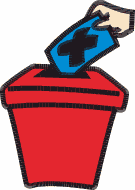 Voting in local elections is a democratic right and the number of people voting illustrates the number of people across the city having a say in local government.
There has been a steady decline in the number of people voting in local elections between 1992 and 1998. Only 1 in 4 people voted in the last local elections in Coventry. There were no local elections in 1993 or 1997.