WARWICKSHIRE - OUR COUNTY 1998-2001
Priority : Environment

To improve the environment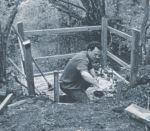 Nationally the decline of the environment is a matter of concern. Within Warwickshire there are important issues that need to be addressed, including traffic, pollution, and waste. Government agencies and District Councils are directly responsible for many of these areas, but we are working closely with all other bodies to find ways of improving the environment.
Targets:
We will work with district, town councils and others to develop shared visions and action plans, to sustain and enhance the vitality and viability of Warwickshire's town centres.

We will agree an air quality strategy with Warwickshire Environmental Protection Council, which meets national air quality targets, by 2000.

We will work with you and the District Councils to stop the increase in the amount of waste to be disposed of each year.

We will devote 5% of the annual investment on road improvements to improving facilities for cyclists, including cycle routes and parking, and promote cycling in the main urban areas.

We will aim to open 90% of the County's public rights of way by 2001.

We will take action to make our towns places where people want to live by introducing measures to give people priority over traffic in town centres and residential districts.

We will complete a green transport plan for the Authority and commence its implementation by July 1999.
If you have any comments on this plan or would like to know more then please contact:
Monica Fogarty
Policy Adviser
Clerk's Department
PO Box 9
Warwickshire County Council
Shire Hall
Market Place
Warwick CV34 4RR
Tel: 01926 412514
Fax: 01926 412479
Email: monicafogarty@
warwickshire.gov.uk